Sharing Your Justice Passport
While the contents of your Justice Passport, including documents, photos, tasks, and events, belong to you, you can share your Justice Passport with attorneys and legal aid staff members by granting them access. If you decide to share your Justice Passport, the other person will be able to view existing content as well as upload files, create events, and tasks for you. This can be very helpful when meeting with a new provider, as they can get up to speed on your case quickly and work with you to develop your next steps.
First, make sure you are logged in to your Justice Passport account. Read more here if you need help.
From the homepage of your Justice Passport, you will see the "People" option. Click on People to control who has access to your Justice Passport.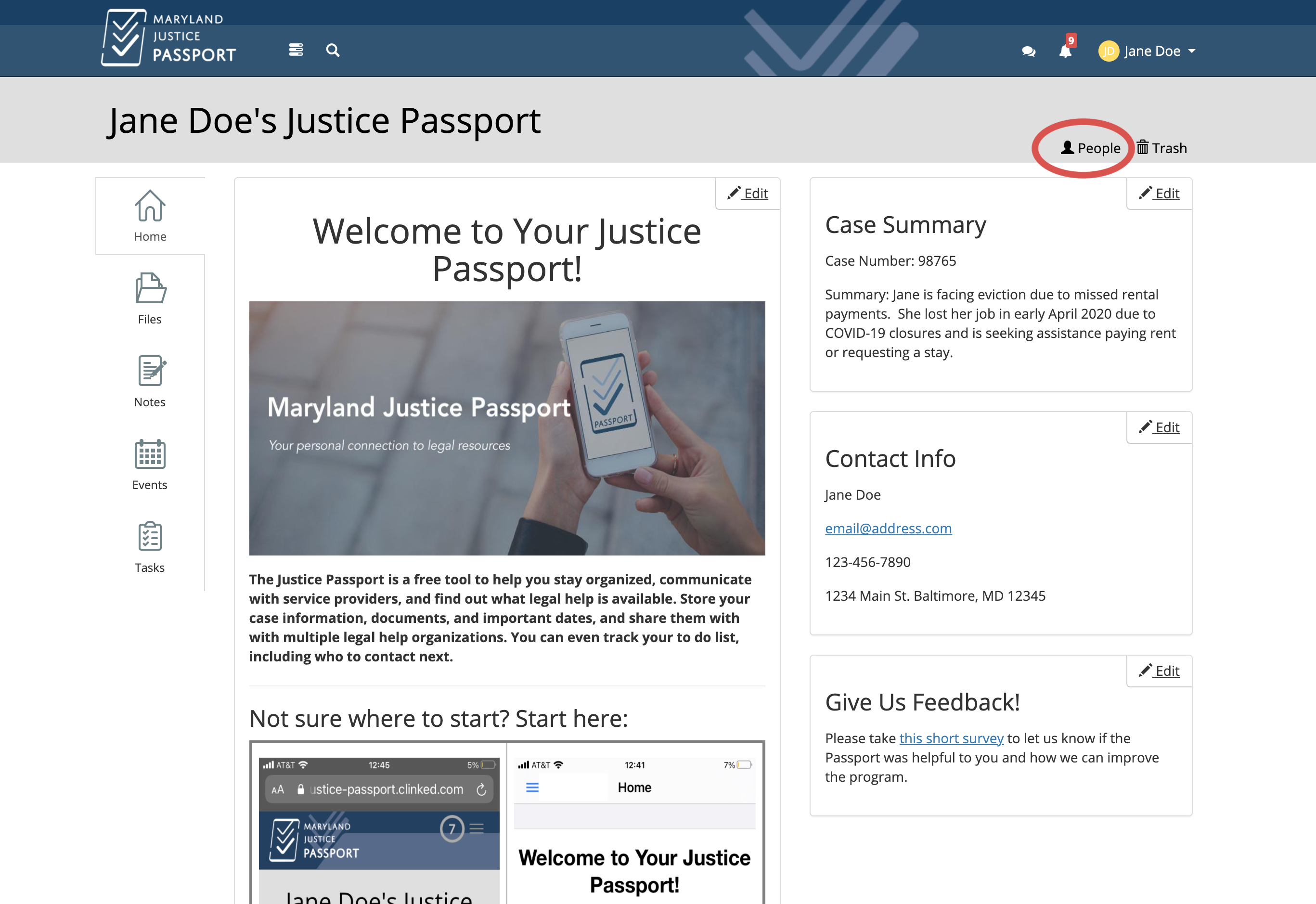 On the People page, you will see a list of existing people that can currently see the contents of your Justice Passport. You can also see pending invitations for people you have given access to that have not yet accepted. You can give access to a new person (an attorney or legal aid staff member) with the green "Invite People" button.

This will bring up the "Invite People" frame in blue.

Add the person you'd like to give access to by typing in their 4-digit code. You can also type their email address.

You can invite multiple people at once by adding multiple usernames here.

Check the box for "Can create content" allowing them to add files, events, and tasks to your Justice Passport in addition to viewing its content.

If you check "Administrator" they will also have the ability to give others access to your Justice Passport.

Check "Temporary Person" which will grant them access to your passport and its contents for the duration you specify, but will remove them after that time has elapsed.

If you do not check "Temporary Person," their access will not expire and they will be able to access the contents of your Justice Passport (including files, events, notes, and tasks) indefinitely.

Select the amount of time you want to give them access. We recommend 2 hours at a minimum.
Click Invite. They will be sent an email letting them know they now have access to your passport.
---
---